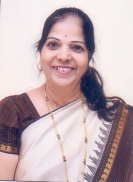 Education system plays a very important role in the countries economic development. Education makes a person knowledgeable, employable and socially useful.
Commerce and management education have become competitive day by day and the growing demand for it creates the necessity of constant upgradation. Now a days higher education in India is undergoing major changes. We must ready to meet these changes.
Gokhale Education Society's Sir Dr. M. S. Gosavi College of Commerce, Krishinagar, Nashik started functioning from sept. 2009 with the objective to provide a quality education in commerce by conducting various innovative programmes. The mission of our college is to achieve quality and excellence by developing the overall personality of the student through curricular, co-curricular, and extra curricular programmes in order to make them competent and socially responsible citizen of the modern world.
We are very proud to be a unit of Gokhale Education Society, who has a very glorious past present and future. Our college is comparatively very young, but we are trying to walk on the pathways of G. E. Society's quality enrichment objectives.
As a principal, I would like to congratulate all my teaching and non teaching staff for their co operation in achieving the goals of the college.
Principal
Dr. Mrs. Manisha Rane
(M.A., M.Phil, Ph.D, MPM, B.Ed.)